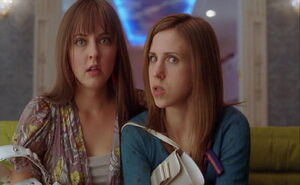 Breeanne Lynn "Bree" Blatt (born September 16, 1992) is one of the evil step-sisters. She is Britt Blatt's fraternal twin sister and the daugther of Dominique Blatt. She is a HUGE fan of Joey Parker and she also falls in love with him, but in the end, Bree & Britt get angry because Joey is with Mary Santiago. She is the oldest by 6 minutes.
She is played by Katharine Isabelle.
Ad blocker interference detected!
Wikia is a free-to-use site that makes money from advertising. We have a modified experience for viewers using ad blockers

Wikia is not accessible if you've made further modifications. Remove the custom ad blocker rule(s) and the page will load as expected.