Missing
Biography
Edit
Mary Santiago is the main protagonist of the movie Another Cinderella Story. She is the Cinderella character in the movie. She becomes the ward of has-been pop star Dominique Blatt after her mother, who was a background dancer of Dominique's, had died of cancer. Dominique took her in, but made her as a maid to herself and her daughters while she was not at school. Mary's dream is to become a dancer, like her mom was. When world-wide pop sensation Joey Parker arrives to Beverly Hills and holds a dancing contest, that dream might come true. The day Joey Parker returns to school everyone except her and her best friend, Tami, mob him. Mary already had a crush on him since she was a little girl because they both love to dance and he is "totally kissable", she even made a video when she was 11 years old of joey.  At a dance class, Mary is always supposed to go behind the mirror where there is another room that is sound proof, Joey Parker enters to teach them a dance lesson then, he and Mary dance with Mary in one room and him in the other. After she is called by Dominique and has to cook crab puffs for all Dominique's guests including Joey Parker, during this event Mary falls with Joey on top of her. Later on in the film Joey and Mary dance the tango and Joey is in love with her but doesn't know who she is. P.S. Mary is the unknown girl joey was dancing with.The day after Joey is searching for the girl he danced with but fails. Mary tells Joey it was her who danced with him but Joey didn't believe her. At the twins 16th birthday bash, they embarrass Mary by showing a video of her dancing to a song by Joey. Joey finds out Mary was the girl he danced with at the ball. Mary is happy as she has got an audition for the dance school of her dreams and rehearse with Joey. Only later Mary sees Natalia in Joey's bedroom because she broke in the house and Mary thinks he was cheating on her, so they break up. Dominique tells the dance audition teacher that Mary broke her legs and she made a letter saying Mary didn't get the audition. Joey in the end invites Mary on stage where they sing and dance. Mary's dreams have come true. At the end Mary moves away with Joey and quits working with Dominique who broke her own legs.Edit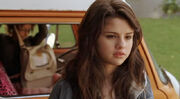 Mary Santiago is portrayed by Selena Gomez
Appearance

Edit
Mary has a slender figure with medium brown eyes and wavy brown hair. She wears tomboyish, baggy clothes and rides a skateboard. When she starts hanging out with Joey, starts dressing more feminine. She is charming and sweet and works for a mean lady named Dominique Blatt and her step daughter's.  
Ad blocker interference detected!
Wikia is a free-to-use site that makes money from advertising. We have a modified experience for viewers using ad blockers

Wikia is not accessible if you've made further modifications. Remove the custom ad blocker rule(s) and the page will load as expected.